2012 36th Championship Show
THE GRIFFON BRUXELLOIS CLUB OF VICTORIA INC.
Sunday APRIL22nd. 2012 - 36th. Championship Show.
We hope you enjoy browsing through the photos and results of this years Championship Show.
A big thank you to all those who exhibited on the day and also to those people who gave freely
of their time to make the day run so smoothly.
Congratulations to our successful exhibitors on the day.
The dogs were beautifully presented and behaved in an exemplary manner. What a wonderful breed of dog we do own!!!!
JUDGES: DR. B. CORBITT. ORDINARY CLASSES TO B.I.S . NEUTER CLASSES & SPECIAL CLASSES.
MRS. S. LANGFORD. PROPERTY CLASSES.
Dr. B. Corbitt - judges critique
One of the greatest thrills a judge can have is to judge speciality shows and this one was no exception for me.
I have been judging for 35 years and have done many specialities here and overseas during that time but every one is special. As we see so few Griffs (Rough and Smooth) at all breeds shows it was exciting to judge so many as this gives any judge the opportunity to make a real assessment of the state of the breed and compare that to observations made in other countries.
The Breed Standard for the Griffon is very clear it says: "A cobby well balanced, square little dog, giving appearance of measuring the same from withers to tail root as from withers to ground…with a pert, monkey-like expression, heavy for size." Any breed is best judged by it most significant characteristics. It was pleasing to see that generally the breed, both rough and smooth, were cobby and square and had the pert, monkey like expression.
However, there are two issues here. I think that a substantial number of the animals shown were not 'heavy for their size'. Whilst this was true for many of the Smooths there was also a tendency to see dogs and bitches that were too light across all classes, including some roughs. The Griffon must be strong to get to be 'heavy for size'. Astute breeding for substance is not difficult and requires breeders to be emphatic in this characteristic when planning breeding over a 4-5 year period. One problem that emerges from this, and it was evident in some animals shown on the day, is that the limbs become weak, and joints become loose and affect rear movement at the hocks, slipping patella's and elbow dysplasia. The best of the dogs and bitches shown, and that was a good deal of them, were strong and devoid of these problems.
The second issue relates to your Breed Standard which needs to be fixed. A square dog cannot be square when it is measured from 'withers to root of tail equal to withers to ground". This always creates a rectangular dog. I would suggest that the clubs work together to get the wording changed to "A cobby well balanced, square little dog, giving appearance of measuring the same from point of shoulder to rear projection of the upper thigh, as from withers to ground". The majority of the specimens shown would easily meet this new description of balance in the GB and PB.
Specifically, head type was excellent throughout with good eye size and shape. It was pleasing to see that the norm is for specimens that are: "rounded but in no way domed" It is very important to see a degree of flatness in the forepart of the skull to eliminate domed heads. Muzzles were strong generally being relatively short, with a wide muzzle, neat lips, and with good turn-up. Chins were mostly prominent. Mouths were very good generally and I didn't see any specimens with obvious showing teeth. I am keen as a judge of all sort-faced breeds that attention is paid to teeth and I feel them all. With width in the muzzle this should not become a problem.
Bodies were generally well developed, albeit that some suffer from a lack of substance as note above. Movement was generally very good when dogs had substance. Some of the less robust specimens were weaker in body and in gait. Coats of both roughs and smooths were very good and preparation of the roughs was generally excellent. Colour was very good throughout roughs and smooths but a couple of the Black and Tan dogs were smutty with black in the tan.
This is a cosmetic issue but the standards done say "Clear red, black or black and rich tan without white markings". In colour patterns across all breeds of dogs "clear' patterns are important and I encourage you to deal with this when it happens, luckily, it seems, not too often here. Temperaments were excellent.
I expected the show to be noisy if the breed was to be a "Smart little dog with disposition of a terrier". It was noisy and often I perused the crates of animals all sparking off each other and exuding that 'air of confidence' so true in any terrier-type dog.
I want to comment specifically on 4 dogs which I think offer exemplars of breed type that will help everyone develop breeding programs that will support a strong future for this beautiful breed:
BIS and Challenge Dog Ch Statuesque Pumper Nickel - Very typey red rough. Excellent balance and breed type - a dog that exuded cobbyness and was heavy for size. Excellent head, eyes, strong coat and outstandingly sound movement. Brilliant presentation.
RUBIS and Challenge Bitch Ch Statuesque Pumpkin Pie - a rough red bitch of excellent type with great strength and heavy for size. Very cobby, showed very well with sparkling expression. Moved exceptionally well. Brilliant presentation.
Res Ch Dog and Best Puppy Alwood Counterfeit - Rough red youngster with great potential. Very good head, sparkled in the ring with his temperament and excellent head Moved very well. For a youngster he had a great coat and was well prepared.
Res Ch Bitch and Best Junior Ch Statuesque Cant Get Enuff Ruff – smooth red of excellent balance and was truly heavy for size. Excellent head and movement. Great sparkle in the ring. Perfect coat.
Special Mentions:
Ch Nouveau Discriminator (imp NZ)
Ch Tzani Isadora Duncan
Gr Ch Amorgrif Amon Ra
Ch Alwoods Seduction
Ch Tzani Brier Rose
Statuesque Betsy Buttonhole
In conclusion, I would like to thank you all as exhibitors for such a great day.
Your breed has potential to do much more. The foundations for greatness are there and I wish you well in getting more and more great dogs into the all breeds rings and winning Groups and Show awards more often. Can I also thank the Committee of the GB Club of Victoria for the excellent organization of the show and to Len Goffin, as always a brilliant Ring Steward. Can I repeat my plea and get you to get the Breed Standard changed and keep working to eliminate Syringomyelia, slipping patellas and some of the more common eye problems.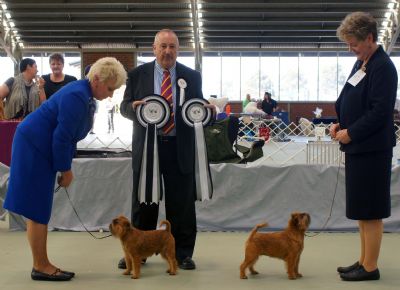 Best in Show - Ch. Statuesque Pumper Nickel
Runner Up Best in Show - Ch Statuesque Pumpkin Pie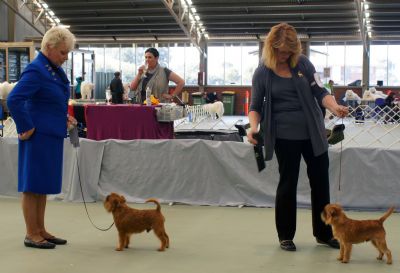 Dog Challenge Statuesque Pumper Nickel & Reserve Dog Challenge Alwood Counterfeit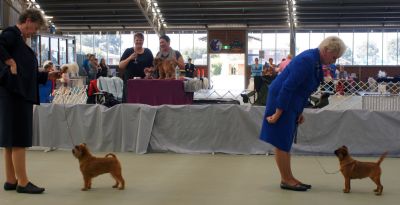 Bitch Challenge Statuesque Pumpkin Pie & Reserve Bitch Challenge Statuesque Cant Get Enuff Ruff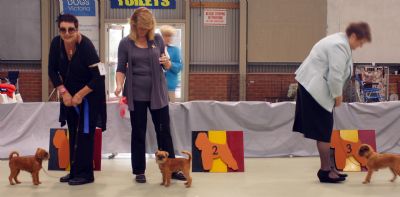 Baby Puppy Dog - 1st. Troubador Pricklepants 2nd Alpebraverie Curry 3rd Armorgrif Beelzebub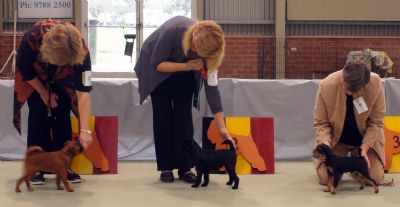 Baby Puppy Bitch - 1st Troubador Poison Ivy 2nd Alwood Sharia Law 3rd Azande Jingle Bell Rock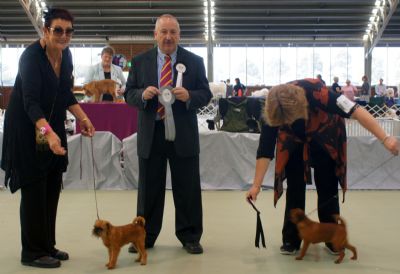 .Best Baby Puppy - Troubador Prickle Pants Opposite Baby Puppy - Troubador Poison Ivy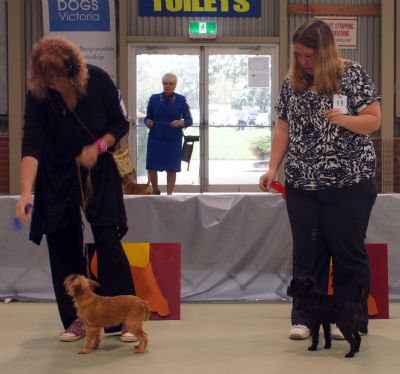 Minor Puppy Bitch - 1st Tzani Kiss Me Kate 2nd Alwood Suspicious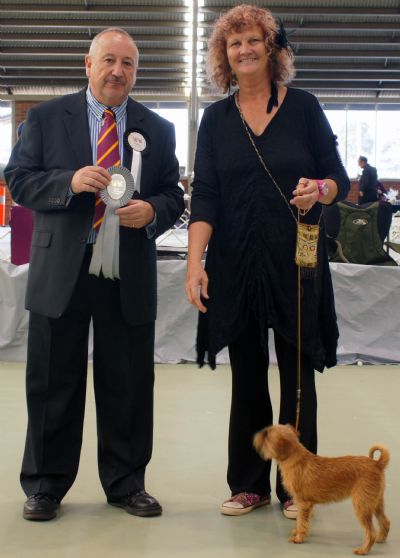 Best Minor Puppy - Tzani Kiss Me Kate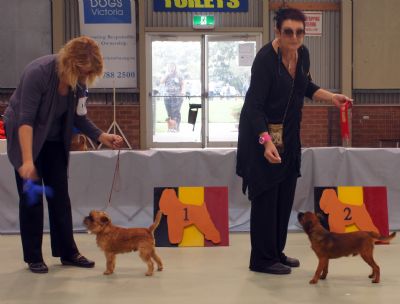 Puppy Dog - 1st Alwood Counterfeit 2nd Tzani Launchpad McQuack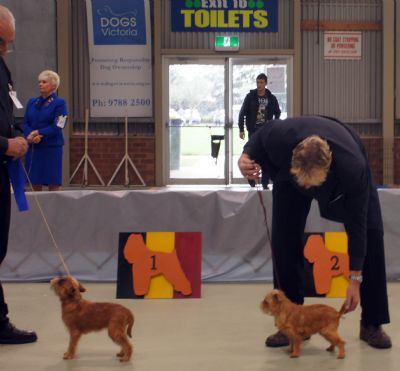 Puppy Bitch - 1st Tzani Lola Bunny 2nd Kango Monique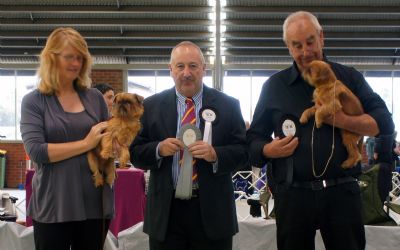 Best Puppy - Alwood Counterfeit Opposite PuppyTzani Lola Bunny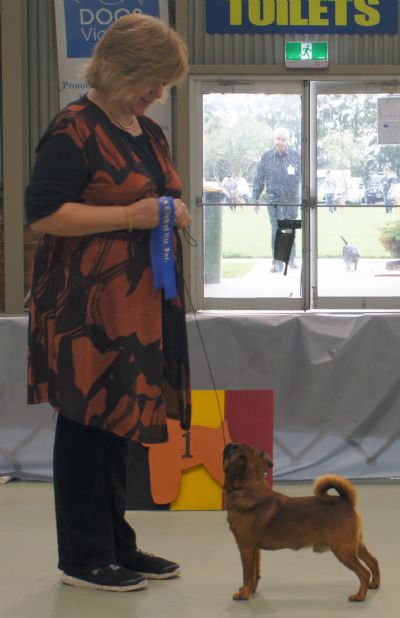 Junior Dog 1st - Troubador Zurgs Heir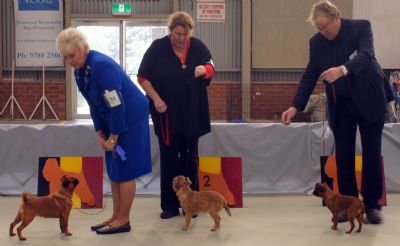 Junior Bitch 1st - Ch Statuesque Cant Get Enuff Ruff 2nd Kobired Rubi Slippas 3rd Kango Red Caviar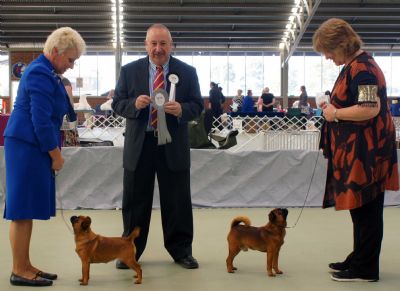 Best Junior - Ch Statuesque Cant Get Enuff Ruff Opposite Junior - Troubador Zurgs Heir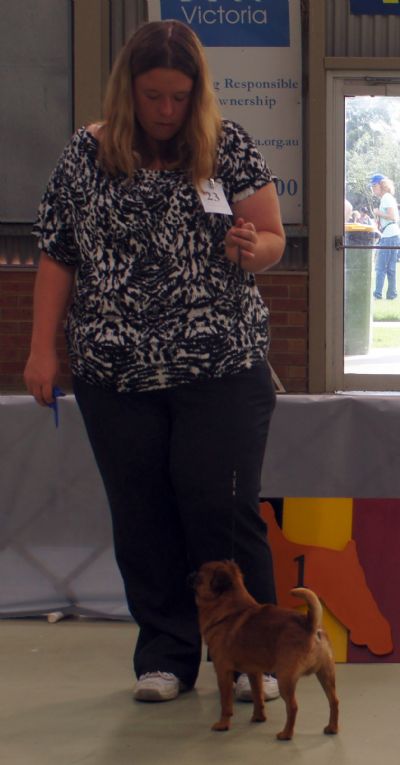 Intermediate Dog - 1st Ch Alwood Distruction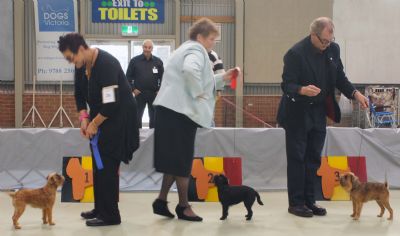 Intermediate Bitch 1st Ch Tzani Isadora Duncan 2nd Armorgrif Padme Amidala 3rd Ch Tzani Jacki Winter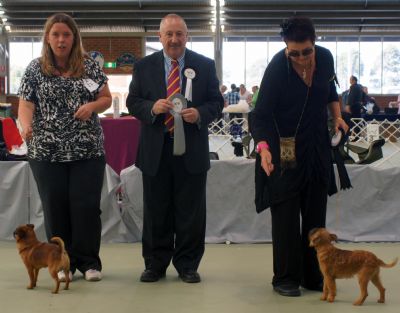 Best Intermediate - Ch Alwood Distruction Opposite Intermediate - Ch Tzani Isadora Duncan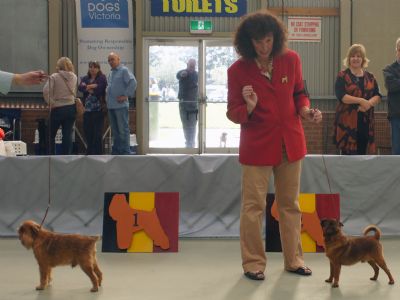 State Bred Dog - 1st Gr Ch Amorgrif Amon Ra 2nd Sargycul Mickey Mouse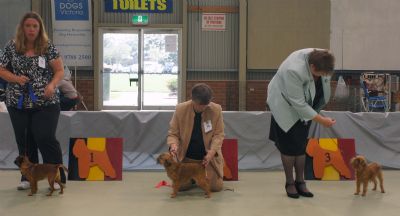 State Bred Bitch - 1st Ch Alwood Suduction 2nd Azande To The Manor Born 3rd Amorgrif Saoirse Roisin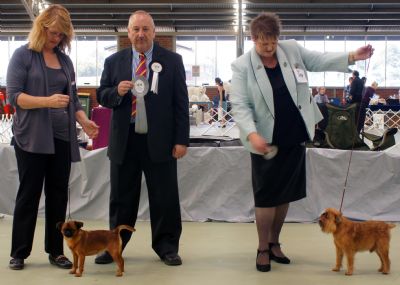 Best State Bred - Ch Alwood Suduction Opposite State Bred - Gr Ch Amorgrif Amon Ra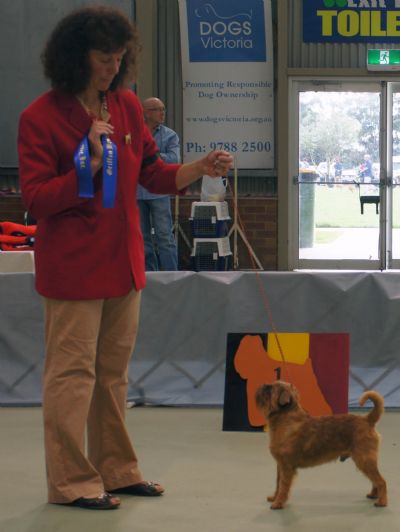 Australian Bred Dog - 1st Kango Scarlet Pimpernel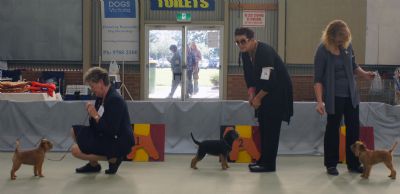 Australian Bred Bitch - 1st Statuesque Betsy Buttonhole 2nd Ch Tzani Hyacinth Bucket 3rd Alwood Resisting Arrest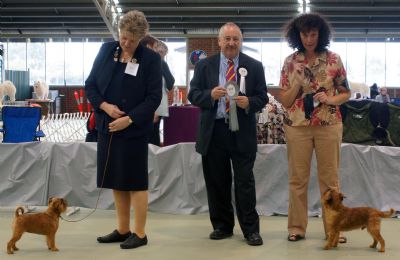 Best Australian Bred - Statuesque Betsy Buttonhole Opposite Australian Bred - Kango Scarlet Pimpernel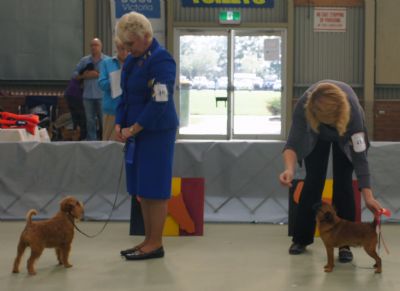 Open Dog 1st - Ch Stauesque Pumper NIckel 2nd Ch Nouveau Discriminator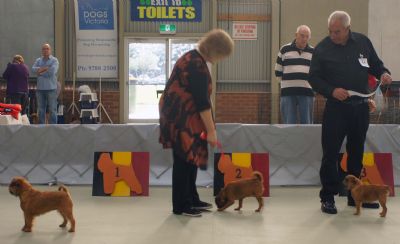 Open Bitch - 1st Statuesque Pumpkin Pie 2nd Tzani Brier Rose 3rd Ch St Johns That'll Do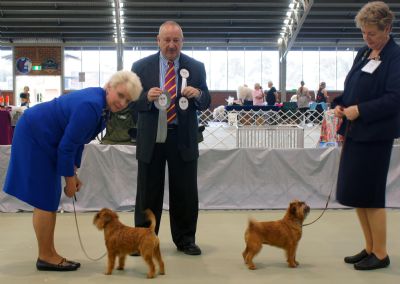 Best Open - Statuesque Pumper Nickel Opposite Open - Statuesque Pumpkin Pie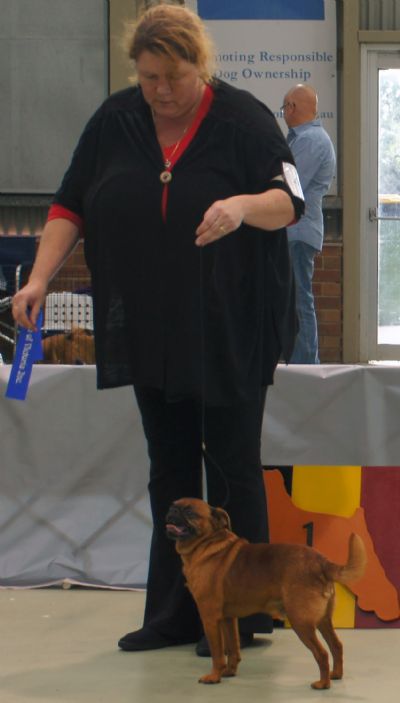 Open Neuter Dog 1st Velbeauf Even Steven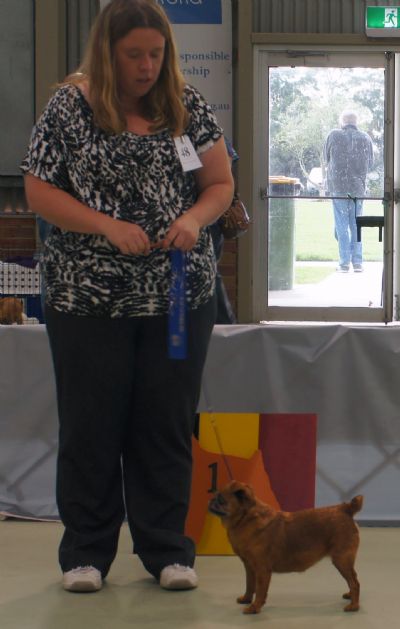 Open Neuter Bitch -1st Ch Velbeauf Hug A Bug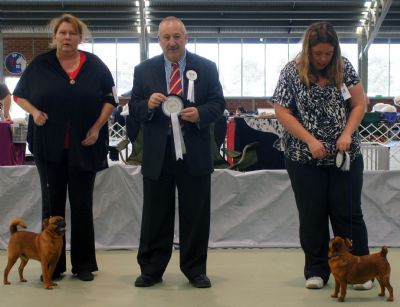 Best Open Neuter - Velbeauf Even Stevens Opposite Open Neuter - Ch Velbeauf Hug A Bug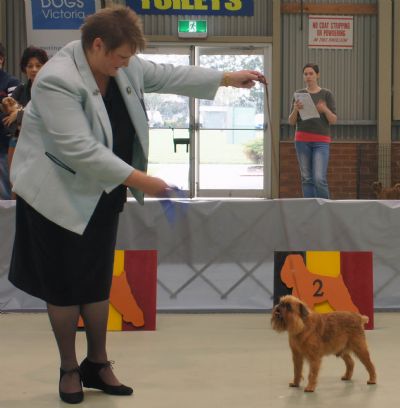 Veteran - Gr Ch Amorgrif Amon Ra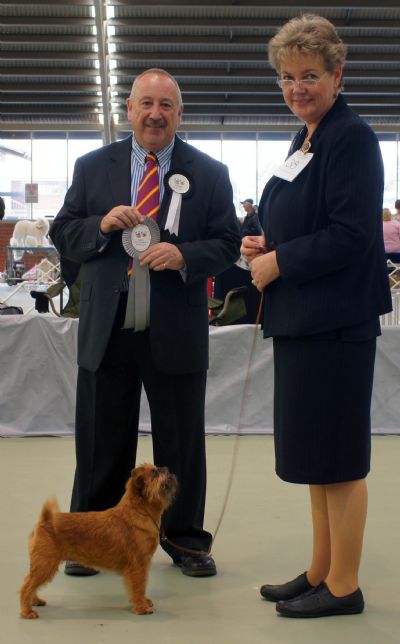 Owner / Breeder / Handler - Statuesque Betsy Buttonhole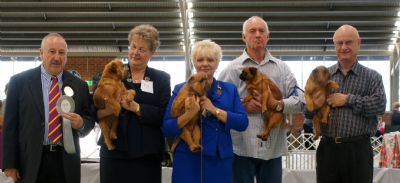 Best Team - Team Statuesque